Rumi was a 13th Century Persian poet and the son of a renowned Sufi scholar. Sufism is a branch of Islam primarily concerned with developing spirituality, or more precisely the inner character. Radical openness, a crucial skill in learning to change, can trace its' roots to 9th century Malamati Sufism. The Malamatis believe that one cannot become self aware without companionship, and that sustained self-observation and healthy self-criticism should also be practiced. The Malamatis look to find fault within themselves and question their self-centeredness. The help of other people is needed to point out the blind spots created by our innate perceptions. The counseling process of Radically Open-Dialectical Behavior Therapy is rooted in Sufism.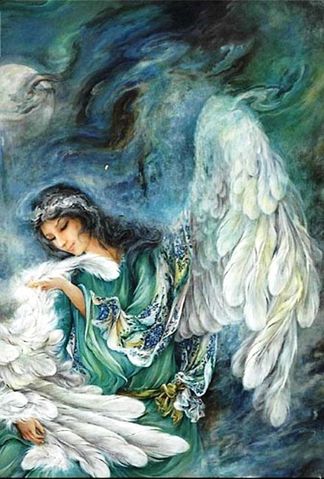 In Persian mythology, Peri are exquisite winged like creatures who are not quite angels, and not quite evil spirits. They are sometimes referred to as fairies or spirits and are revered as beautiful and kind creatures even though they live between chaotic good and chaotic evil. Some literature implies that "the Peri" represent the soul.
Ebrahim Soufiani interprets the poem by Rumi in his book The Lost Key, An Exploration into Persian Literature, as meaning that the Peri live in the soul of humanity and are why we have thoughts, illusions, images, and dreams. Illustrations of the Peri almost always include a fountain as representative of the essence of life. Peri are the expression of the gentility, originality, or purity of humanity. They are our spirit.